Government
Helping the government sector reach higher levels of performance and productivity
Purdue TAP's continuous improvement expertise impacts government processes, human capital, leadership and culture to create lasting positive change in the areas of productivity, growth and technology.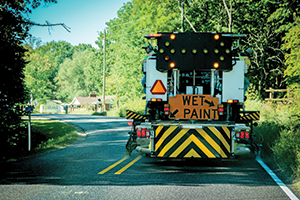 ---
For more information regarding services for Government agencies visit the MEP website.
---
The Indiana Department of Transportation wanted to streamline road-surface making.  To save time and money, INDOT planned to transition to painting lanes with just one truck per district, but first had to make changes to its painting processes as well as physical alterations to trucks.  Purdue TAP's Lean approach allowed for development of a successful pilot program in which each district's scheduled lane miles were painted with a single truck.
"The Purdue TAP team was able to quickly study our process and develop a plan to accomplish the same amount of work with roughly half the equipment." - Todd Shields, INDOT Maintenance Field Support Manager, Indianapolis, Ind.
---