Annual Report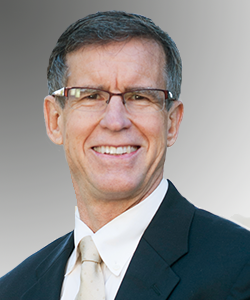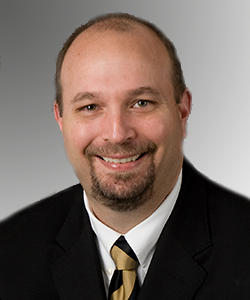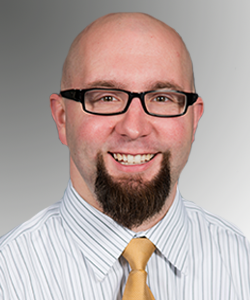 From the TAP Leadership Team
For over three decades, the Purdue University Technical Assistance Program (TAP) has served Indiana companies to advance economic prosperity, health, and quality of life in Indiana and beyond.  To accomplish this mission, the organization has worked closely with business, healthcare, manufacturing and government sectors throughout the state. For fiscal year 2016, Purdue TAP served 1,400 employers, helping them remain competitive, retain and create jobs, and invest in Indiana.
In the past year, workforce development has been one area of focus for Purdue TAP. The manufacturing sector, working in conjunction with the Indiana Department of Workforce Development, created a new training program to get more individuals engaged in manufacturing careers.  Following widespread adoption by the healthcare industry of electronic health records systems, quality improvement is on the horizon.  Hospitals, clinics and practices need assistance to move their operations toward value-based care in response to Medicare reimbursement changes.
A continued strength of the TAP program is assisting companies with the professional development of staff. Over 3,100 employees completed training in a broad range of business, healthcare and industrial offerings.
These programs are making a difference in Indiana. In the past year, manufacturers have reported the creation or retention of 594 jobs, increased or retained sales of $109.9 million, cost savings of $23.4 million, and investments of $19.2 million. The potential for increased revenue and cost savings has paired Purdue with almost 100 Indiana healthcare organizations (a combined 3,500 providers) in a five-state practice transformation network aimed at modernizing the healthcare industry.
The Purdue TAP team of industry experts, faculty, students and staff takes pride in the impact of their work throughout Indiana. We encourage you to explore how this program could transform your business.
Purdue TAP Leadership Team


November 2016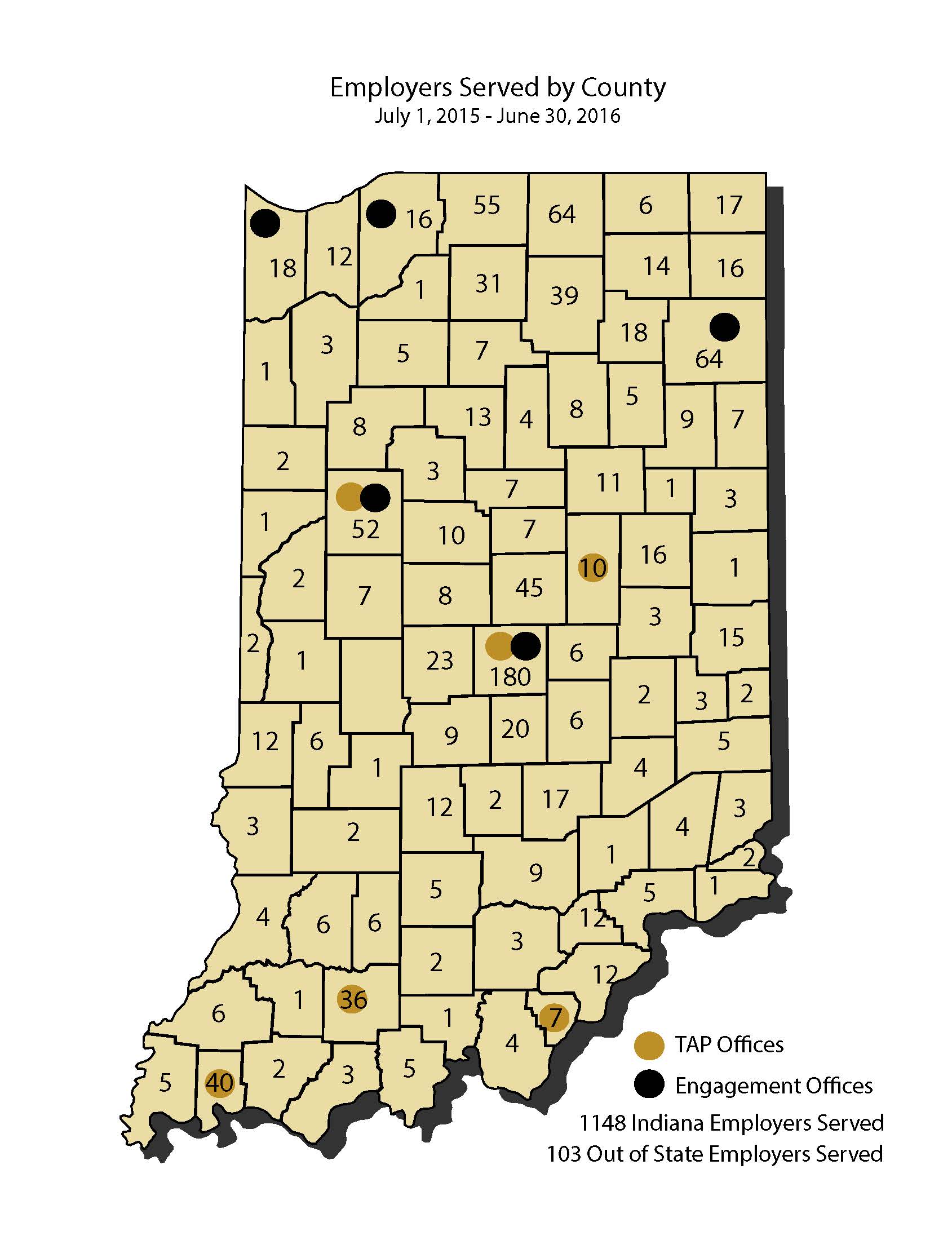 Employers Served
In 2015-16, TAP faculty, graduate students, and staff worked with 1,148 employers and governmental units in 91 counties across Indiana.
Funding
Received $7,917,767 in funding from 105 sources
Economic Impact Data
July 2015 - June 2016
Increased Sales: $17.5 million
Retained Sales: $92.3 million
Cost Savings: $23.4 million
Capital Investment: $19.2 million
Employment
Jobs added/saved: 594
Training
Employees trained: 2,763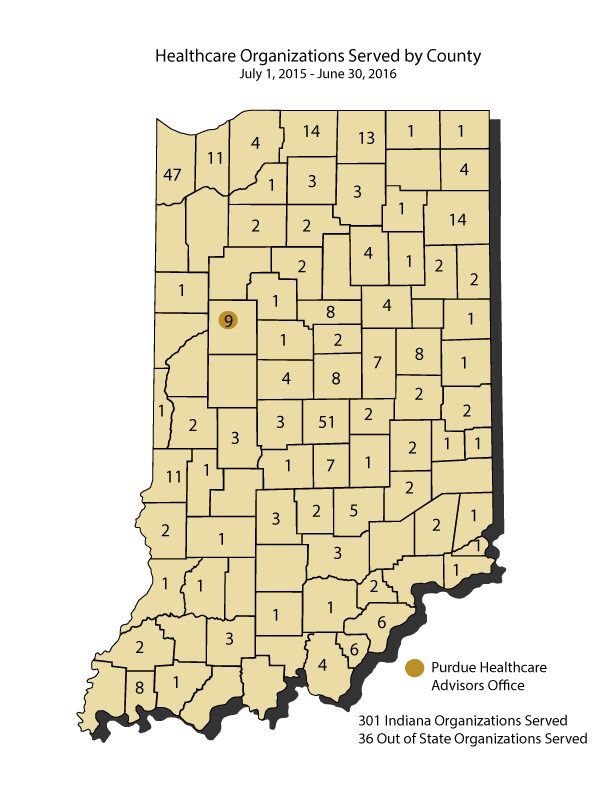 Providers Served
In 2015-16, Purdue Healthcare Advisors and its faculty, staff, and student participants served 301 healthcare organizations in 76 counties, helping them to improve patient care, meet government regulations, and increase practice margins through innovations in productivity, safety, and efficiency.
Funding
Received $6,347,705 in funding from 75 sources
Training
Healthcare Employees Trained: 389
Physicians assisted with EHR since 2010: 5,697
2015-16 Funding for Business and Healthcare
Total: $14,265,473 from 180 funding sources
(No General Funds)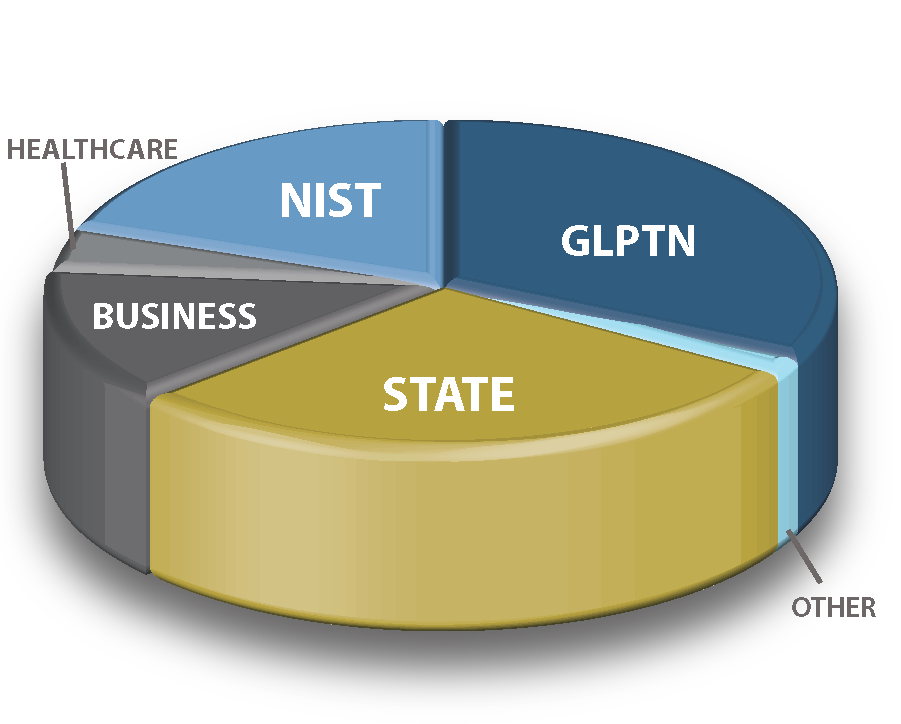 Funding Legend
Federal Grant ($7,610,663)

 National Institute of Standards and Technology (NIST)

Great Lakes Practice Transformation Network (GLPTN) via CMS

 Other
State ($4,202,749)

Indiana
Fee for Service ($2,452,061)

 Business

Healthcare
---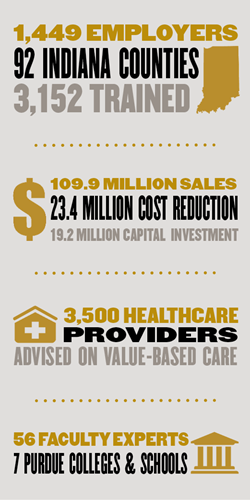 Annual Report Archive
2015 TAP Annual Report
2014 TAP Annual Report
2013 TAP Annual Report
2012 TAP Annual Report
2011 TAP Annual Report
2010 TAP Annual Report
2009 TAP Annual Report
2008 TAP Annual Report
2007 TAP Annual Report
2006 TAP Annual Report
2005 TAP Annual Report
2004 TAP Annual Report
2003 TAP Annual Report
2002 TAP Annual Report
2001 TAP Annual Report
2000 TAP Annual Report
1999 TAP Annual Report
1998 TAP Annual Report
1997 TAP Annual Report
1996 TAP Annual Report
1995 TAP Annual Report
1994 TAP Annual Report
1993 TAP Annual Report
1992 TAP Annual Report
1991 TAP Annual Report
1990 TAP Annual Report
1989 TAP Annual Report
1988 TAP Annual Report - File not available
1987 TAP Annual Report